{tab=Review (PS3)}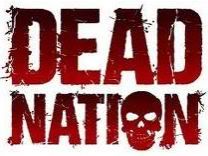 Combine classic horror titles of the past, put it into a top down view and you've got something rather special!
The story as goes, a town is infested with a virus that turns its citizens into walking dead zombies. Your job is simple, blast your way through the levels and get out alive. Dead Nation is all about survival, survival of the fittest. The game can be played in single or two player co-op modes.
As soon as you start the game, you can feel the uneasy atmosphere, the dread and anxiety of what lurks behind those dark corners grows ever more. Zombies emerge subtly and gradually fill the screen as you fight them off and run around setting off cars that explodes taking the walking dead with them. Things can get pretty hectic if you just go in guns ablazing, you need to plan ahead and conserve your ammunition supplies.
Throughout the game there are safe houses which you can stop by and armor-up from the items, weapons and upgrades you've collected throughout the levels.
Graphically, there's alot of nicely detailed environments with great lighting. Character and zombie models are well animated and the damage animation of zombies and such getting shot adds a great touch as they explode and blood shower the area. Shadows are well done too which gives the title more atmosphere.
Control-wise, its pretty easy to get into, using twin analog control for movement and firing, it pretty intuitive.
The audio effects are well done with convincing explosions and realistic groans and moans from the enemy and such. There are also sound effects of objects within the environment such as soda cans rattling and trash cans knocked about. Special mention must go to the music which intensifies when the tension really gets going.
Dead Nation is great title of its genre featuring a load of levels and lots and lots of zombies - with a number of difficulty settings and ongoing Nations race (stats of zombies killed from country to country and leaderboards), this will keep you coming back for more. It's a great game in single player and even better co-op with a mate. Definitely worth checking out!...