Bust-A-Move Universe (3DS)
{tab=Review (3DS)}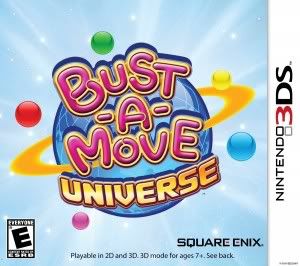 Everyone has played this classic franchise (well, pretty much everyone whose into their puzzle games). Bust-A-Move Universe brings it all back and it's in 3D!...
Like Tetris, B-A-M is a timeless classic, you'll always remember how fun it is and such as its simplicity it's an extremely addictive yet hard-to-put down type of game. For new gamers amongst us, the object of the game is simple, shoot out balls to match 3 or more of their corresponding colors, once they match, they will clear the screen. You win by completing the level within a set amount of time.
Visually, the graphics are clear and colorful, as you would expect from the series. The 3D effect is nice, although the graphics are in 2D, the 3D effect helps make them stand out more so than other titles of this genre thus far. The music is as cute as ever along with accompanying sound effects and jingles.
You can control the game via the 3DS pad and the d-pad, control is intuitive and straight forward, you can refine your shots by using the L and R shoulder buttons.
Bust-A-Move Universe is a great fun game that you can pick up and just play whenever you want. Once you have completed all of the main levels and missions you will be left wanting for more, but there is plenty of replayability in going back to the game bettering scores. There are also trophies to attain to keep you busy. Unfortunately, there isn't a multiplayer mode either LAN, online or StreetPass which is a shame, hopefully there will be those options in future titles.
7/10

Pros
+ Colorful and cute graphics
+ Easy to get into, hard to put down
+ Catchy music and good sound effects
+ A timeless classic for all ages
Cons
- Too short, not enough levels
- No multiplayer option
{tab=Video}
{/tabs}