{tab=Review (PS3)}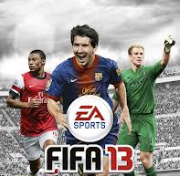 Another year, another FIFA'13. The latest version of the franchise has had a lot of new additional features, here's the low down on what's improved/changed.
In Career mode, the manager mode has had a lot of additional features which makes it more enjoyable to play, transfers are now more realistic with international games throughout the season which gives it a more life-like feel, and with results and fixtures now read out by a commentator while you are in the menus, it really shows how much EA has put into that mode. The only issue would be that in certain games, the A.I can start playing unrealistically well, which can ruin the game you're in.
Over the past couple of years or so, pro-clubs has been ruined by overrated players, boosters and pro keepers. So it's good to know that it has been rectified. Now it is only possible to improve your pro by playing online games only, this introduces the challenge of improving your pro. Also, I liked that you can turn off pro-keepers with the flick of a button and with new promotion/relegation battle, the title is also more enticing to play.
Graphics-wise, its improved once again with new animations and movements, I really like the animations of certain players as they do the same in real life, it can only get more realistic, which is more than welcome in this area. The sound effects, commentary and crowd noise is always premiere in this department, if you running it through a quality sound system it really amplifies the sonics to no end, especially so when things get really intense and it's a close match.
Overall, I feel that the game's general gameplay has improved, the A.I are now much more responsive in certain situations and don't cling onto the ball as much as before. The defending is slightly better and with the amount of tedious free-kicks given away has been drastically reduced. There are still issues however, such as passing, it is still easily prone to flying-off in the wrong direction. Additionally, the new first touch engine means that playing with lesser-rated players usually ends up with you losing the ball. So, despite the niggles and concerns with this years FIFA, I'm glad to say that EA have come up trumps once again in the genre. There is always room for improvements, and I look forward to seeing them in next year's title.
8/10

Pros
+ Great graphics and animation
+ Top commentary and sound effects
+ Plenty of modes to keep you busy
+ Realistic transfers
+ More balanced game mechanics
Cons
- Passing can be iffy at times
- Can't save/watch replays offline
{tab=Video} {/tabs}