Urban Trial Freestyle (PSN/Vita)
{tab=Review (PS3)}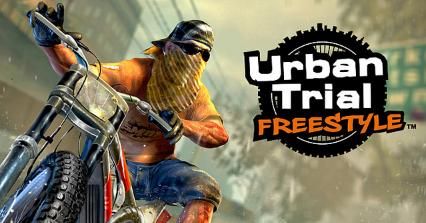 The PS3 has many of genres covered from fighting games, racing, rpg's and war simulators etc. One genre it does not cover until now, is a side-scrolling action bike racing game that is Urban Trial Freestyle from Tate Multimedia . Hang on a minute, you may argue there's Joe Danger, correct, but they're both different enough in their own right.
The main objective of UTF is to amass as much points (as well as stars) as possible in the fastest time possible, you can perform stunts and such when you are indicated to. Stunt and Time Attack mode is based in five urban environments, from city streets, industralised factories to building roof-tops - they're all pretty insane to say the least. Events are varied and give a good challenge to the player, one moment you're performing cool stunts and tricks, the next you're trying to get to the finish line as soon as you can to be placed on the leaderboards. There are alternate routes and passageways in the game, these provide shortcuts to faster times and even hidden treasures, it's your job to find the best route for that particular event, be it more points or the the quickest time.
There is also a Challenges mode, this consists of five tracks that have a unique twist to each of them, this mode is for the more experienced player that's advanced from the Stunt and Time Attack modes.
Events are unlocked as you advance in the game, you must earn your way to unlock them, as each event has a set number of stars that must be attained. By earning stars, this gives the title more replay value as well as giving the player a good understanding of each course, benefiting in better times and scores.
To help aid the player throughout the game, your bike can be customised; from wheel, chassis and engine, each part plays a role in the performance of each event. As you progress, you're able to unlock more parts along the way for further modifications. Customisation is an essential feature as it can mean coming first or last in an event.
Graphically, the game is a visual treat to the eyes, the environments are nicely detailed. There's many things going on in the them too in the backgrounds as well as foreground; from people arguing, to police chases around town, explosions from helicopters and beyond, they're a visual distraction but add to the tense and exciting atmosphere perfectly. Character animations and bike physics are adequately implemented. The game runs smoothly without a hint of slowdown when things really get frantic.
Overall, Urban Trial Freestyle is a great game, with plenty of re-playability along with ongoing leaderboards and the ever fiendish Challenges mode. Just a word of warning though, it's highly addictive!
8/10

Pros
+ Great graphics
+ Intense and exciting atmosphere
+ Stunt and time attack modes
+ Unique Challenges mode
+ Leaderboards
+ Balanced gameplay
+ Extremely addictive
Cons
- Some events can be tricky, but practice pays off
{tab=Video}
{/tabs}